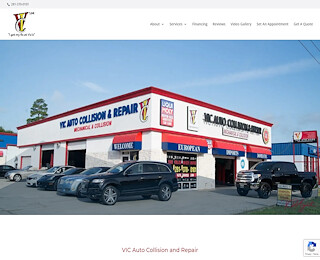 Paintless dent repair Houston
Paintless dent repair (PDR) is a technique that's useful for removing dents or dings from the body of motor vehicles. Unlike traditional dent repair methods, paintless dent repair works by reshaping the camel, eliminating the need for filling paint over the dent. The technique has been widely employed in repairing hail damage, minor creases, door dings, bodyline damage, and small to medium-sized dents. As long as the paint surface in the dented area remains intact, your car can benefit from paintless dent repair in Houston. And our expert technicians at VIC Auto Collision and Repair are always on hand to deliver a flawless job in a few hours or less.
Is paintless dent repair good?
Paintless dent repair has numerous advantages over traditional dent repair techniques. However, you should know that paintless dent repair cannot work for all situations. The technique is useful when your car has one or multiple small dents or dings that negatively affect aesthetics. You should consider paintless dent repair in the following situations:
Hailstorm dents
Minor collisions
Door dings
Shopping cart dents
Dents under 4" and without paint damage
In the event of substantial dents or accidents involving paint damage, you will have to explore traditional dent repair options.
What are the benefits of paintless dent repair?
Below are some of the advantages of paintless dent repair over traditional dent removal techniques:
It's a cost-effective solution
Because the process is easy, fast, and there's no painting involved, PDR is much more affordable than other dent repair techniques.
There is no need to involve your insurance company
Usually, the cost of paintless dent removal is much less than your insurance excess. As a result, you won't need to make a claim and your insurance company would have no excuse to increase your premiums.
There is no discoloration: Mismatched paint colors is a major challenge during traditional dent removal processes. Sometimes, the technician may even recommend a full paint job if your car is sporting a rare color. Paintless dent removal in Houston leaves your car's bodywork unaltered. So, there's no need to worry about matching paints. 
Maintains your car's value and aesthetics
Minor dents can significantly affect your car's resale value if you leave them unattended. Paintless dent removal provides a cheap avenue for repairing the dents and increasing your chances of striking a good bargain for your car. Even if you do not wish to sell your car, driving about with dents on your vehicle is not just cool.
Get your paintless dent repair in Houston
At VIC Auto Collision and Repair, we have a track record of providing excellent auto repair services for our clients at a rate that gives them the best value for money. Our experienced auto repair technicians are experts at what they do, and you can trust that you'll get nothing less than the best from us. We work with everyone, including dealerships, auction houses, leasing companies, transport organizations, and individuals. Drive in today for the best paintless dent repair in Houston.
Paintless Dent Repair Houston
VIC Auto Collision & Repair
+1 281-370-0101
17545 Kuykendahl Road
Spring
TX
77379
View Larger Map
We welcome your comments!